Frenzy Gals
Today I will blend two great American traditions in one blog: The Road Trip and FUDGE! Yep, according to all the research that goes along with my lifelong obsession with fudge, Fudge is an American invention with the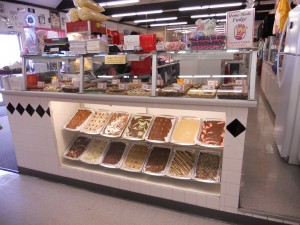 first references to its existence dating back over 100 years ago to the 1880s (prime Steampunk inspiration era time!).
There is no historical record proof of the first ever batch of fudge but it is assumed that it is an East Coast invention and the mistaken result of a botched batch of caramels – thus the name "fudge" as the recipe was "fudged". Talk about one tasty mistake!
The first known sale of fudge was in 1886 in Baltimore. It gained fame in 1888 at Vassar College when a student sold over 30 pounds of it in the Senior Auction for 40 cents a pound. Today you will pay, on average, $6.95 to $9.99 per pound of the sugary goodness!
But why is fudge on the brain is all our recent travels? Since November of 2010, K and M (that's me) have logged over 10,000 miles in the Stay Puft Marshmallow Van visiting places like Seattle, Atlanta, Tucson, Oklahoma City, Kansas City, Denver, and a bunch of little towns in between. A running theme on every one of those trips is Journey's "Don't Stop Believin'" (which oddly is always playing on some radio station or other at least 2-3 times each trip) and – you guessed it – FUDGE! It seems every touristy souvenir stop along the highways that criss-cross this country sell fudge, and we sure are grateful they do! Billboard after billboard trumpeting the beloved American treat are seen along I-40, I-70, I-90, and countless other roads we have traveled.
The tourist interest in fudge is suspected to be linked to the grand traditions of the first fudge shop that opened in Mackinac Island, Michigan in 1889. The island eventually became famous for its fudge and the tradition of making right in front of the customers on marble slabs and then selling it fresh. By the early 1900s fudge had made it all the way to California and C.C. Browns ice cream parlor in Hollywood is credited with inventing the hot fudge sundae by undercooking the fudge so it stayed runny enough to pour over ice cream.
Modern fudge recipes use evaporated milk which significantly lessens the cooking time so people like me are no longer afraid to tackle making fudge in their own kitchens. This innovation is often credited to Mamie Eisenhower and thus such recipes are often referred to as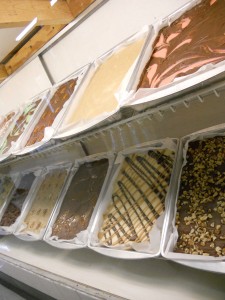 "White House Fudge". Using marshmallows or marshmallow cream is a newer trick as well allowing the fudge to "set-up" more easily than having to wait for the proper crystallization of the sugar. (Hey, Stay Puft Marshmallow Creme is M's preferred brand when making fudge. And it all comes full circle!)
All the details aside, it is just a comfort to be out on the road and see a sign for fudge, pull over, and know you are going to get a sweet treat that comforts your aching body and tired mind and reminds you of the family gatherings and festive holidays of your youth. Ahh, fudge, how do I love thee? In a million different varieties, of course, but mostly in the chocolate peanut butter swirl version!
-M of the frenzygals, fudge fanatic for life!
For an excellent resource of fudge recipes and tips on making amazing fudge visit TheNibble.com