Frenzy Gals

How did everyone do? I hope you all were more successful than I was. I would like to state for the record that the first full week of a new year is so chock full of "other" stuff that I was overly-ambitious with my project plan.
If you recall, my plan was to finally frame in a shadowbox the voodoo doll I picked up in New Orleans last spring. I must admit that didn't happen. Why? Well, at the risk of sounding like I am making excuses, I will lay it all on the line and take the lumps as they come…
For starters, it turns out the shadowbox I had set aside for the project wasn't big enough. I was trying not to make any purchases and just use what I had around. So, I pulled out a 5 x 7 x 2.5 inch shadow box I bought at Ikea years (yes, YEARS!) ago and assumed it would work. Wrong. I probably need more like an 8×10 if I want to have anything other than the doll itself visible.
I regrouped and decided to put the voodoo doll aside for another week and focus on using the shadowbox to showcase some of my other treasures I have hoarded away. I gathered them up from the corners of the house in which they lived and tried to figure out how to incorporate them into the same vignette without it being too odd.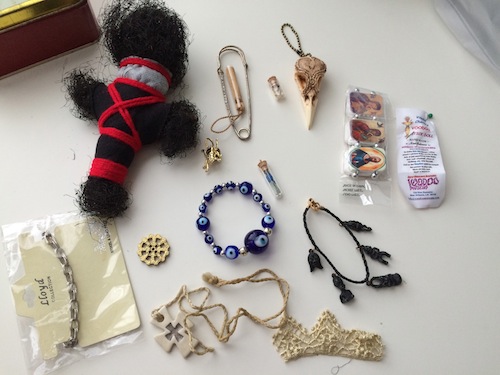 With them all gathered in the same place, I began to see a bit of a pattern… I had evil eye beads, some creepy awesome tiki charms I scored from an antique store that was going to throw them out because they "creeped them out", a glass vial of my dog's puppy teeth (yup, I saved them like the Crazy Dog Lady I am), a tiny worry doll from Mexico I got at the restaurant where K's wedding reception was held. They all kind of seemed like good luck charms or symbols of protection and love to me.
Having that theme in mind I pulled out a few more of my precious little items, including the eagle statue from an old sports award, the cork from the special Mead K had sent me from Hawaii, and a cast resin bird skull I had purchased to make a necklace that turned out way bigger than I expected and just got put in a drawer.
I constructed an insert for the shadowbox out of scrapbook paper and began attaching the various items I had to the framework with button thread (it's sturdier than regular sewing thread). Once I had things laid out the way I liked them, I had a big hole in the background that needing filling, but nothing of appropriate theme or size to do so.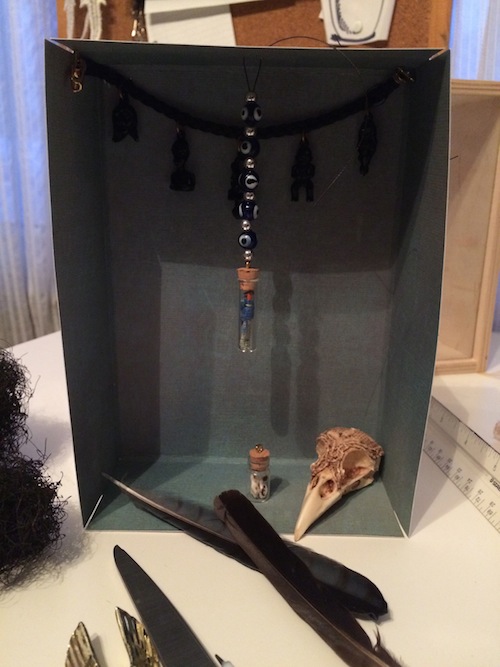 Off to Pinterest to look up good luck & protection symbols. Very. Bad. Idea. I got sucked down a "pinhole" (that's what my good friend Angie calls it when you get pulled into the Pinterest vortex and lose large chunks of your life) and had to claw my way back out. I did bring some inspiration with me, but it was not a good way to spend the evening when I really needed to be MAKING and DOING!
I decided to make a Hamsa (a palm-shaped amulet found in many cultures as a symbol of protection) because they are sooo pretty and the meaning fit my working theme. But… What material do I use? How do I decorate it? Shouldn't I just take a break and watch some Spartacus reruns on DVD?
The materials choice finally came to me – QUILLING! Quilling is the art of making 3D art out of rolled paper strips. There are amazing quilling artists out there and everything they make looks so beautiful. Of course, quilling is also an artform  that I am a beginner at, having picked up supplies a few years back in an attempt to learn a "portable" craft. It has been a while since I pulled out the tools and it all felt foreign, but I was determined.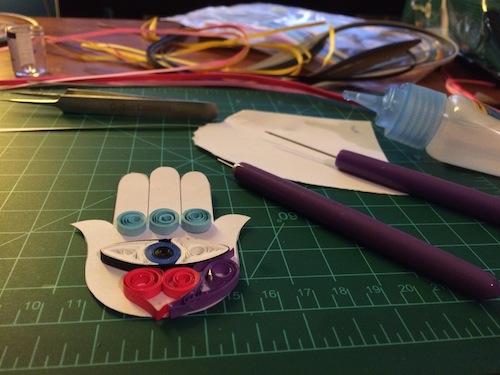 As it so happens, I wasn't determined enough. I made a mess of little paper slivers and glue and got frustrated trying to manage the curls and shapes. This is all the further I got: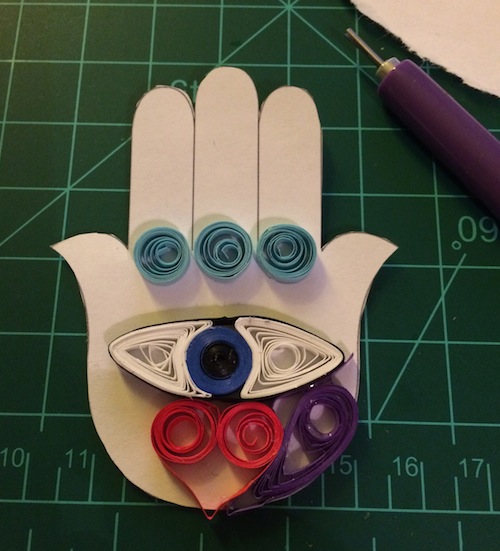 It is a good start and I want to finish it, but it is closing in on the end of a long day and the eve of a new week. I am a bit ashamed to admit it, but I failed this week's challenge. The first week! Of MY OWN CHALLENGE! *sigh*
I will finish this shadowbox. It will probably go through a few more morphs, but it will be completed. For now, I am going to accept the accomplishment of actually spending time creating something outside my job(s) and outside my normal obligations.
Sometimes we have to cut ourselves some slack and just try to do better next time.
YOUR RESULTS
I would love to see what you all made/did as part of the challenge. Share your photos on our Facebook page, or Tweet us, or tag it on Instagram #DoItMakeIt2015. I'm not sure if you can share images here in the blog comments, but you are welcome to try!
WEEK 2
Week 2′s theme, for those who want/need one, is Metallic. I'm not sure what I'll be doing this week… hopefully finishing last week's project AND a new one! I'll keep you posted.