Frenzy Gals
Circus-A-Day Recap of Week 2
Day 8: Gallery of Circus Photos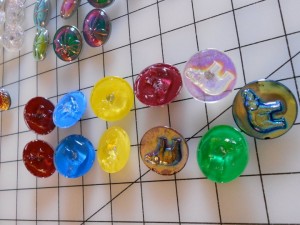 Today, we worked on finishing or lion and lion-tamer costumes, then we loaded the van and drove to Milwaukee, WI. M made a fantastic faux-fur stole with gold fringe and a sweet pair of matching faux-fur shorts for her costume. K mostly loaded the van and organized the workshop. So, I also put together this gallery of photos of circus-related objects we've seen in our travels, including a creepy mechanical monkey from an antique store, elephant buttons and a circus costume we found at a flea market, a circus-themed shop display from Seattle, K's Fluevog boots, a sideshow poster mural from Pike-Place Market in Seattle, and photos from the Richland County Carousel Park in Mansfield, OH.
Day 9: Lion and Lion Tamer costumes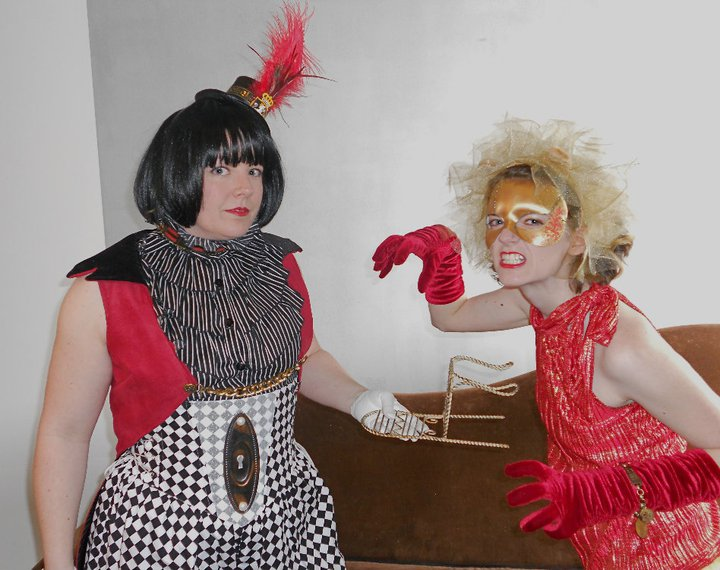 We spent today at the Gear-Grinders Steampunk Photo Event in Chicago, which brought out several models and photographers. We provided wardrobe, accessories, props, and styling for several of the photographs that were taken during this event. M spent a lot of time hand-stitching finishing touches on K's coat, and we also threw on our own lion and lion-tamer costumes to get a couple of photos taken!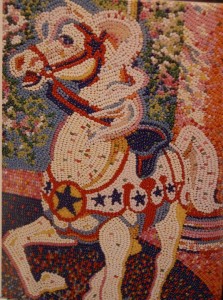 Day 10: Jelly Belly Carousel photo
We drove back from Milwaukee today, and we stopped at the Jelly Belly factory in Pleasant Prairie, WI.  While we were there, we took some photos of Gingersnap and the Bok Choy Boys with the brightly colored jelly beans. We also took a photo of this display box for a puzzle. The carousel-horse theme seemed appropriately circusy for our theme.
Day 11: Popcorn Box (K) & Hand Elephant (M)
K's contribution for Day 11 is pretty simplistic, but it was fun eating the popcorn afterward! This little paper popcorn box is made from copper-foiled paper, cut out by the Cricut and glued by K. The lettering was also cut out by using the Cricut and applied by K. I know that Houdini isn't exactly circus, but he was a performance artist and it is from the proper period. Plus, I liked the look of it as a background!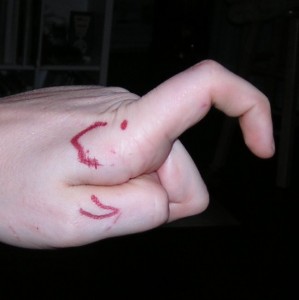 M's Day 11 creation was actually created by a friend who helped her as she panicked (she is still working on that) near the end of the day. A Sharpie marker and a few simple lines transformed a regular human hand into a circus elephant with a moveable trunk! Simple, clever, and circusy!Â
Day 12: Wild at Heart Collage (K) & Spark Your Fire Collage (M)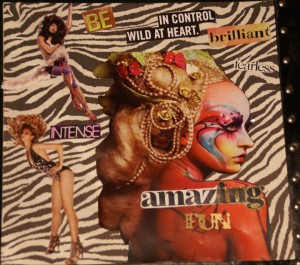 I know it's not steampunky, but K's art creation of the day was inspired by a bunch of magazine images I've been collecting that had a circusy feel to them. And I needed a reminder to BE an artist, and to BE in control, wild at heart, fearless, brilliant, intense, amazing, and fun!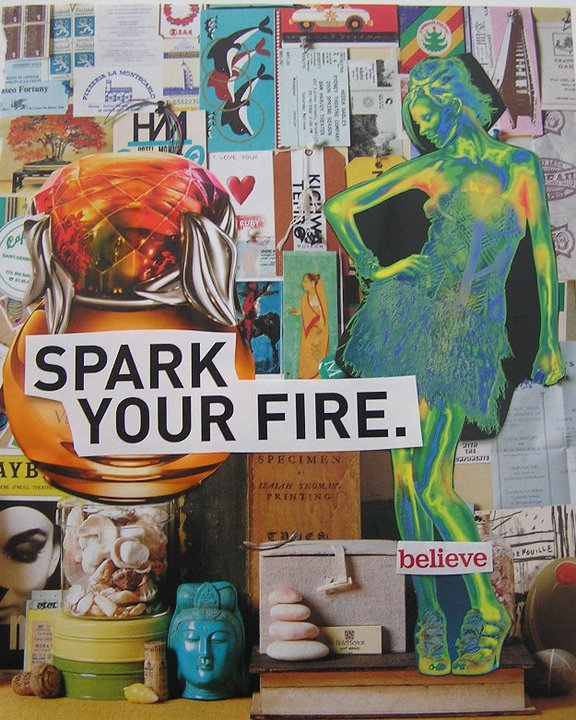 M needed to remind herself that the true magic of the circus is to inspire belief in the barely possible"¦ in the process I inspired myself to believe in ME and that it is up to me to create my own divine spark of creativity. Too bad I can't bottle that in the perfume bottle in the collage and have it available on the days I need reminding! Â
Day 13: Mechanical Menagerie poster (K) & Believe Your Eyes Collage (M)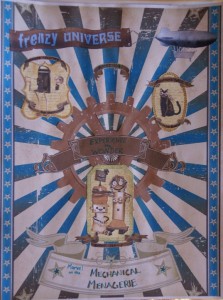 Â
K: Today, I started on a different project, but I over-reached in my vision and it just wasn't working out. So I started a different project, late in the evening, but I underestimated the length of time I would spend cutting out tiny, elaborate pieces to collage. So, I didn't finish the second project either. So, I went to bed and finished the project first thing the next morning. I created a circus poster advertising the mechanical denizens of the Frenzy Universe. If you've been to the website, you'll recognize PopTart (camera creature) and Juice Box (clockwork cat). But our Robot Family may be unfamiliar! We built them for our shop's Christmas display windows in 2009, and they still hang out in the room next to the warehouse.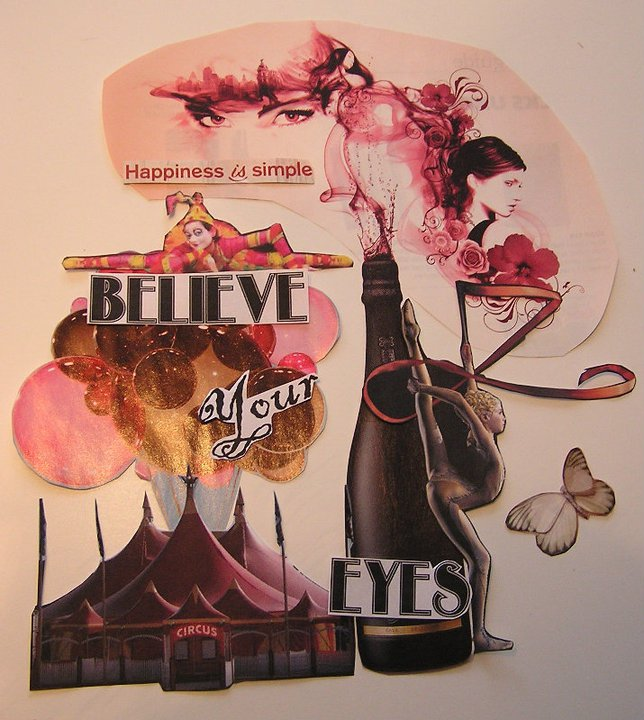 M: I am feeling tardy and inadequate"¦ especially when I see K's amazing creations. However, I still made SOMETHING and that simple fact is what I should be proud of. Why the words and images I chose? If "Ignorance is Bliss," then the circus is quite possibly the most blissful place on earth!  Occasionally allow yourself to just Believe Your Eyes and not question the how and why and you can be happy in the moment as long as it lasts"¦ then move on to new things.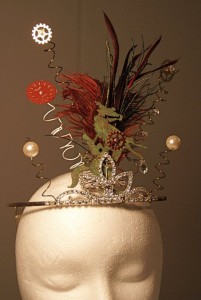 Day 14: Horsewoman's Tiara (K) & K's Lion Tamer Coat (M)
K's Day 14 contribution did NOT turn out how I wanted it. I had much more elaborate plans, but nothing was working out right! So, I modified the plan, and I will be working on another crown to use the original theme! I started with a basic rhinestone tiara and added some coiled brass wires with faux pearl beads, a watch face, brass gears, Swarovski baroques, and glass beads. I used the Cricut to cut a show horse and rider out of shrink plastic, which I painted with iridescent green acrylic paint and stamped with musical notations and a key in burgundy pigment ink. After shrinking the plastic in the toaster oven, I used wire to attach the figure and the feathers to the tiara using brass and silver wire.
M's goal for today was to finish sewing on the gold braid trimming to K's lion tamer coat. It needed to be done by hand and I sat down to watch some episodes of "Burn Notice" and stitch. It has been a while since I did that much hand sewing and kept getting cramps in my hand and wrist and so had to keep stopping and stretching/massaging my hand. By 12:30am, I decided to throw in the towel and get some rest so it still lies unfinished on a side table in the sewing room. A failure on the completion scale, but progress nonetheless.
K's Insights from Week 2: Making art every day while traveling is going to be a serious challenge! When we're driving for 8 to 12 hours a day between conventions, we're going to have to rely on commitment, initiative, and innovation to fulfill our promise to this project. We'll also need to plan ahead for traveling and have an art-making toolkit with us at all times. And we'll need to be willing to redefine what we consider acceptable as art projects, such as photographs or performance pieces.
M's Insights from Week 2: Baby steps. That is what I need to take every day. I agree with K that creating while travelling is going to be very difficult as I tend to just shut down once the driving is over and all I want is food and sleep. Also, confining our access to supplies will be a challenge as well. We may end up with lots of knitted things from me as yarn takes up little space and I can work on it when it is K's turn to drive.