Frenzy Gals

Week 6 – Salt Lick Coleslaw
K used to live in Austin, Texas, and the company I work for now is based there. One of my favorite things in Austin, Texas is the Salt Lick Barbecue. Specifically, their coleslaw.
First, I should tell you that I HATE mayonnaise. HATE IT! I think it is gross and makes foods weird. I never eat coleslaw, or potato salad, or macaroni salad if it is made with mayo. Ew. So, why do I love The Salt Lick's coleslaw? No Mayo!
Their slaw is a delicious little treat of barely "pickled" cabbage and seasonings. Light, the right mixture of sweet and sour, and the perfect side to some good Texas barbecue. I have been searching for a recipe for it for about 15 years. Thanks to Pinterest I found one!
It was shared in an article in the Dallas News and found its way onto my Food board on Pinterest. The other day we were having crock-pot BBQ and I decided to try the recipe.
I didn't have the celery seed it called for, or the white pepper. I actually had to look up what white pepper was as I had never heard of it. I decided to just omit the celery seed and use the black pepper I had, just less of it. It was still too much. I'm not convinced the recipe I was using was correct, as I later found another recipe that only called for 1/8 tsp of white pepper vs. the 1/4 cup the first recipe called for (I probably used approximately 1/8 cup black pepper).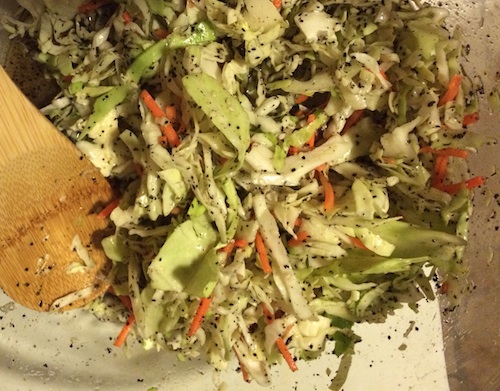 My coleslaw turned out way too peppery, thankfully the sweetness of the BBQ beef helped temper it a bit. We ate it anyway and it was definitely better than any mayo based slaw! I will have to try again when I get the correct ingredients and can investigate the recipe a little more.
The Salt Lick Barbecue is a MUST if you are ever in Austin. They even have a restaurant at the airport now, so you can try it on a layover. They also have put out a cookbook, which might end up on my Wish List.
Week 7 – Buying a house & PocketMod for business travel
This week Miguel* & I signed the final papers to close on our new house! While it isn't a project in the typical sense, it was quite the ordeal, which began back in early November when we first looked at this house and began shuffling our life to make room in budgets & schedules. So, to see it come to fruition this week feels like a major accomplishment! Of course, now we have no end to projects to do on the house, so I'm sure you'll start to see those popping up here.
As the house didn't quite feel fair to use as my project for the week, I did want to share the other thing I worked on…
I first discovered PocketMods years ago in a magazine similar to Make Magazine, but I honestly can't remember the name of the magazine and I'm not even sure it is still in print.
A PocketMod is a genius little single-sheet of paper that is cut and folded such that it creates a little 8 page booklet you can use as a temporary, wallet-sized planner/ organizer/ notebook.
The official website makes it super easy to create one with pre-made templates for the pages. You just pick the type of page you want to add (Calendar, To Do List, Grid Paper, etc.) and drag and drop it into the template. When you print it, the software automatically sets it all up! You just have to fold it and cut it properly. There is a short, helpful YouTube video on how to do that.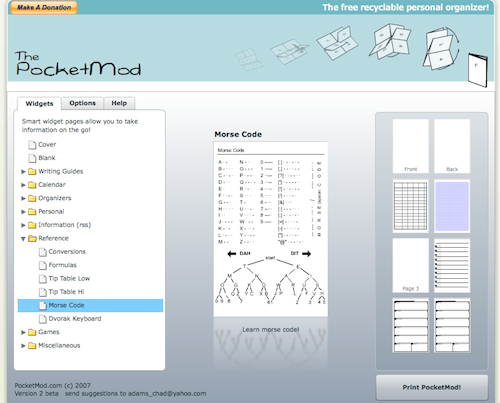 They even have storyboard and music sheet templates if you want to carry a little pocket notebook for working on your next composition or short film!
Of course, it isn't perfect, but they can't predict and cater to everyone needs, now can they? There are few options for customization before printing. You can't easily make your own re-usable templates. While there apparently is a software file you can download to turn your own PDFs into PocketMod pages, it is a Windows based file so I couldn't get it to work on my Mac. Importing images is tricky and involves several hacks that just weren't worth my time for the uses I intended for my PocketMods.
So, what will I use my PocketMod for? The first one will be tested on an upcoming business trip to Vegas for a trade show. I wanted a checklist of what I needed to pack, a place to record receipts, my personal daily schedule of meetings/seminars, and a place to jot quick little notes.
I know most people just use their smart phones for all of these things, but I am still a bit of a luddite and will always be glad to have a piece of paper and a pencil around when battery life tries to wreck my day.
What did you do/make? Share in the comments or on our Facebook Page. If you need ideas for what to make next, check out our Pinterest board dedicated to project ideas for the Do It – Make It Challenge.