Go For Broke – It's more than a motto, apparently it is a board game from the 1960s!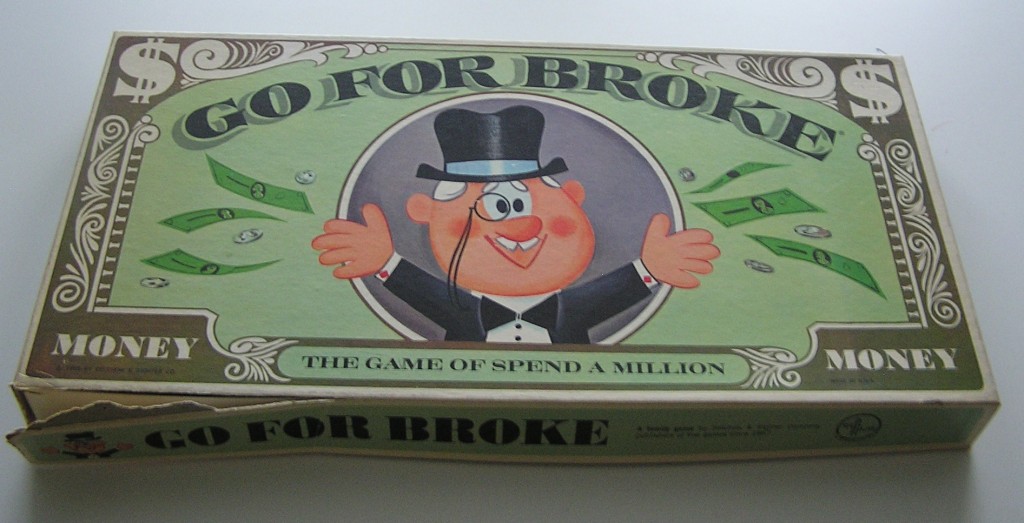 Today we decided to do something we love doing and haven't done in a while. We headed out to hit some second-hand stores and thrift shops to see what treasures we could find. When M saw this board game box in a stack of beat-up boxes she gently rescued it and eagerly paid the lady her money.

The object of the game is the be the first player to "Go Broke" by losing/giving away all your money. Well, we are pretty sure we would rock at this game since that (being broke) is a perpetual/recurring state for us.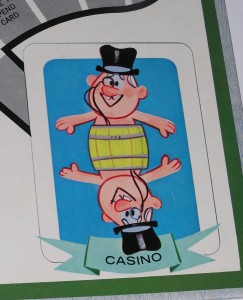 Copyright 1965, this game was apparently the invention of one Phillip K. Dick (yes, the renowned science-fiction writer) and has seen several reincarnations since its original publication represented by this version. The artwork is deliciously and distinctively 1960s in style and color and we love the darling retro nature of the "anti-Monopoly man" in his wooden barrel apparel.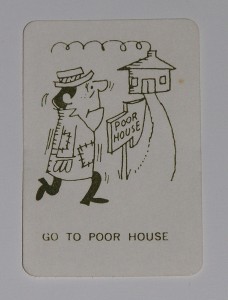 You play the stock market, gamble at the casino, bet on the horses, and try to give away your money or get other players to make more money that you in order to win. Instead of passing Go and collecting $200, every time you pass the Poor House you have to give it $1,000. If you are unlucky enough to draw a "Go To Poor House" card or land on the space with the same instructions, you must travel to the Poor House and take all the money waiting there, thus upping your chances of failing to Go Broke.
It is an amusing concept for a game, but probably brings to light the more realistic dangers of gambling, oil speculating, horse betting, and the random luck of life. However, we do appreciate the irony of a game that shows a different side to our life's creed to take risks, gamble on life, and Go For Broke!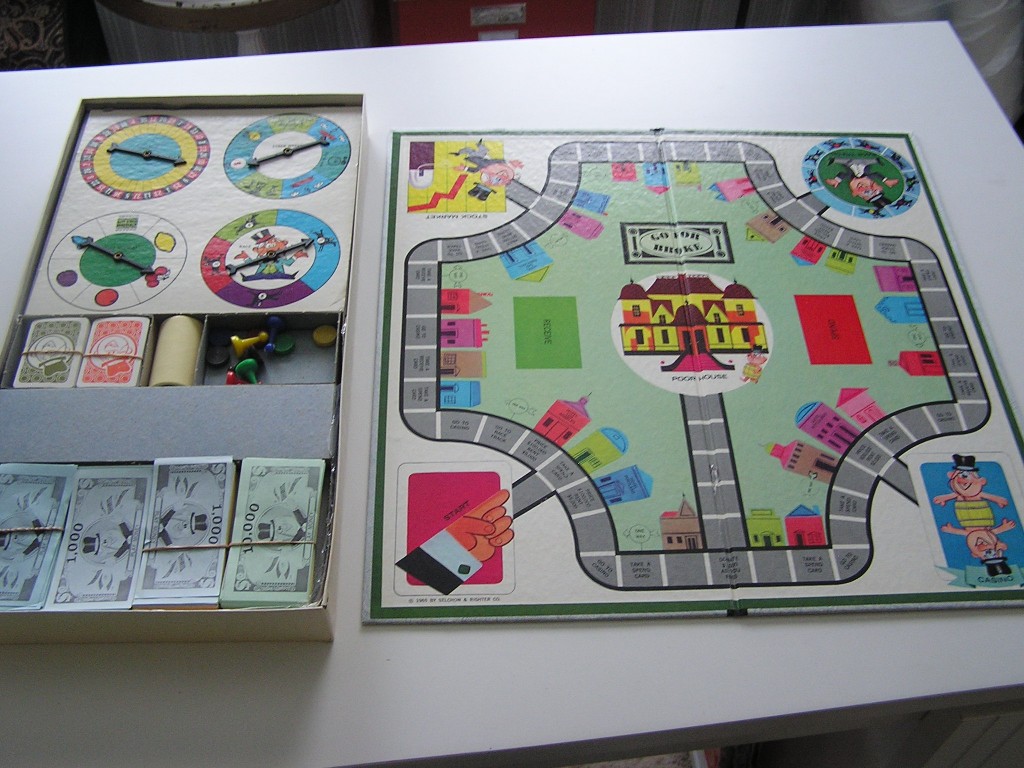 UPDATE (February 20, 2014): We've had so many requests for copies of the rules of this game that I have made a PDF of photos of the inside of the box lid where the rules were printed in our copy. You can access that file HERE:  GoForBrokeBoardgameRules
4 Responses to "Go For Broke – More than a Motto"