Frenzy Gals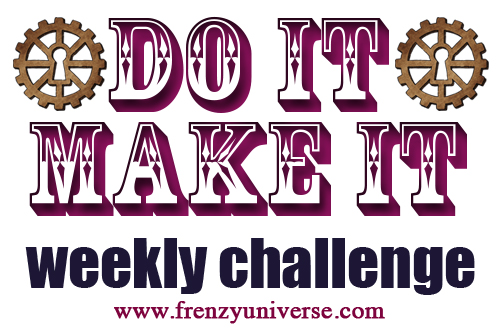 by M of the FrenzyGals
A few years ago we embarked on an Art-A-Day Challenge that really tested our creativity and dedication. Especially because we were traveling for a good portion of the year and it is hard to find time for art when you are driving 16 hours in a single day.
While we didn't actually make it all 365 days, we did create A LOT of art and stretched our ingenuity muscles.
I (M) have decided to attempt this type of challenge again in 2015 and invite you to participate with me! This year I am doing a WEEKLY Creation Challenge. I have to create/produce/complete SOMETHING every week this year.
I am not putting any other restrictions on myself, so I am free to make whatever I want and I can be creative in what I count towards the challenge. It may seem like a bit of a cop out to be allowed to count trying a new dinner recipe as my project for the week, but I feel the flexibility this gives me will make it more likely that I will succeed with this challenge.
It is my challenge, after all, and I get to set the rules for myself. It isn't a competition and I don't want it to become a chore, so I am allowing the wiggle room for the parts of myself that I know bridle under strict regulations.
While I will not be following any kind of formula or theme, I know some people prefer some prompting. So, for those of you who need a little direction, I have compiled a list of "themes" that you can reference each week if you need some inspiration. We have also started a Pinterest Board titled "Do It–Make It Challenge" where we will pin little project ideas we find intriguing that might help inspire you as well.
I will share each new week's theme at the beginning of the week (here on the Blog and on our Facebook & Twitter accounts). Again, I am keeping these pretty loose and open for interpretation because I love to see what your amazing brains can come up with!
Let's make something amazing this year! (Even the littlest things can be amazing, so don't put too much pressure on yourself!)
Who's with me?