Frenzy Gals
Circus-A-Day Recap of Week 3
Day 15: Seal with Gear Cookie Cutter (K) & Stiltwalker Pants (M)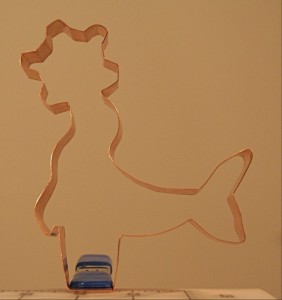 K's 15th contribution is a copper cookie cutter in the shape of seal on a drum balancing a gear on his nose. He's made from 1″ -wide copper ribbon that I bent by using flat-nose (or "duckbill" pliers) and an acrylic wheel. He turned out only half-bad, but it was looking pretty dicey there for a while. (We were pretty sure we were going to end up with a "guess the circus freak" cookie cutter…) I started with bad math, when I didn't calculate the additional length required to turn a ball into a gear. So, I ended up just bending and rebending the ribbon until it took on some semblance of shape. I learn something every day!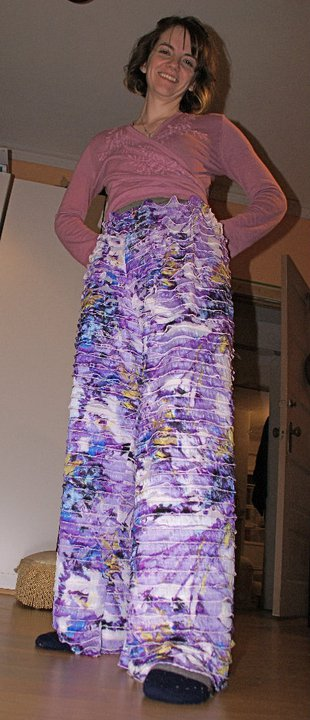 M bought the purple ruffled fabric with the full intention to make pants out of it"¦ and so she did! The fabric was a real pain in the backside to work with as it has a weird stretch to it and when pinning the pieces together the ruffles did NOT want to line up. It was a simple two piece design and only took about 1.5 hours total to make, and only took that long because I had to fuss with the fabric so much. I am calling them stiltwalker pants even though I am not on stilts, and if I was the pants would be WAY too short"¦. prototypes, people!
Day 16: Carousel Park Soldered Necklace (K) & Clockwork Orchid Hair Fascinator (M)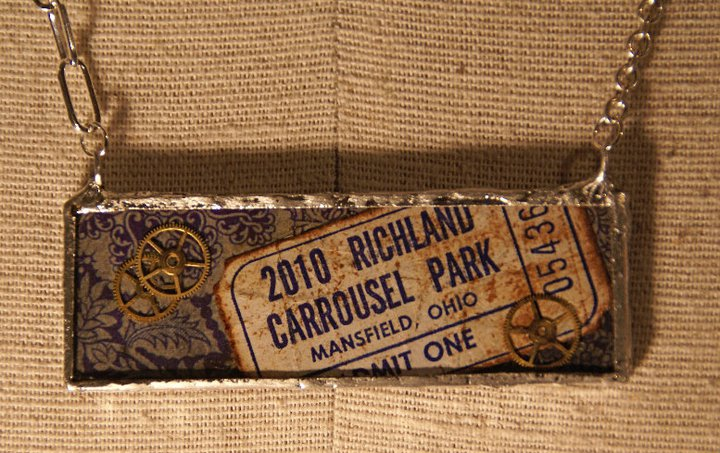 K's soldered necklace is made from two glass microscope glass taped together with copper tape, over which a bead of solder was applied with a soldering iron. The collage was made with an expired ticket from the Richland Carousel Park that I distressed by using distressing ink, a piece of vintage paper, and a few gears. The back of the pendant is made of a grosgrain ribbon on which I embossed the words "there is more to me than you can see. This was the first time I pulled out the soldering iron in what I determined was about 3 years. Too long has it been gathering dust! Look forward to some more soldered work in the coming weeks!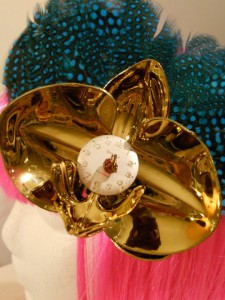 M stepped firmly outside her comfort zone and used tools on this one! Yep, I laid down the scissors and needle & thread and picked up snips, wire, an X-Acto knife, and a glue gun. I started with two premade feather hair clips and a plastic metallic orchid left over from a past Christmas display. Using the X-Acto knife I removed the clips from the feather pieces and arranged them as I wanted them, then glued them together. I took the metallic orchid apart using the snips and used wire to put it back together with the clock face and the red bead to accent the center of the flower. Then I used a special pin back with holes in it to pull the wire through and hold it all together. K was very patient in helping me pick out the right tools and watching over the accident prone one of us (me!) to ensure safety at every step.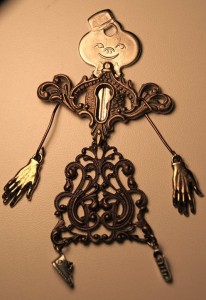 Day 17: Mr. Brassy Bottoms
K's contribution for Day 17 was a Found Object Clown that I am calling "Mr. Brassy Bottoms." Mr. Brassy Bottoms's head is an old "American Tourister" key. His body is a key hole/escutcheon and a brass filigree. His hands and feet are some pewter shoe charms, some brass wire, and some brass hand charms. (Sadly, he has 2 right hands, and he is left-handed. Poor Mr. Brassy Bottoms.) He was an ephemeral art piece, because I have other plans for all of the pieces that make him up. He was fun while he lasted!
So, with what she is afraid might be a recurring problem, M has nothing to submit for day 17. I don't like showing partially finished things, but I am going to have to get over that or have more days where nothing actually gets shared, which is not an option. I may also need to put a bit more planning into my creations so I am sure I have enough time and all the proper supplies before getting fully into the project only to discover it is 10:30PM and all the stores are closed and I cannot go further without that whatchamajig I could have sworn I put in my bag before leaving the workshop!
Day 18: Pin Circus (K) & Circus Tent Birthday Cake (M)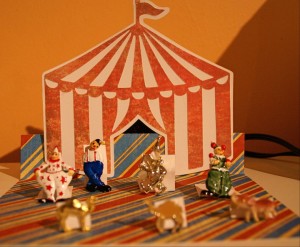 K's contribution is the combination of too many things on the to-do list and not enough vision. Here I have a paper cut-out of a circus tent and a series of 7 pins found combing local antique stores. They are standing up because I pinned them into posterboard "stands."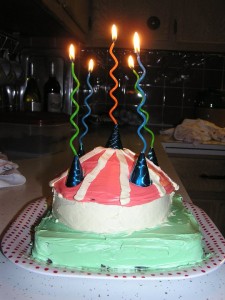 M was very busy celebrating her 32nd birthday today"¦ okay, well she was busy getting stuff done so she could celebrate in the evening. I decided to make myself a birthday cake and used the opportunity to make a circus themed cake that could count as my item of the day. It turns out I am really good at the baking part, not so much the decorating part. I made a small 8 inch round cake and a 9×9 square cake with the rest of the batter. Then using store-bought butter cream frosting and food coloring I made the pastel colors you see in the photo. The square cake became the grass field and since the round cake puffed up nicely in the center I didn't have to try to build a tent top from paper. I do not own decorating supplies so I used a plastic storage baggie with a corner snipped off as a piping bag to make the stripes on the top of the tent, but the bag split up the side partway through the striping process and made a complete mess of things. A tasty mess, but a mess nonetheless. I got the awesome spiral candles during a last minute run to the grocery store to buy eggs to make the cake. The tent towers are circles of paper I turned into mini-cones. Happy Birthday to Me! (It was delicious!)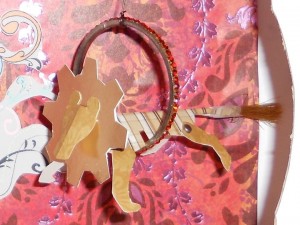 Day 19: Paper Dolls (M & K)
Today, we decided to make some paper puppets for our Clockwork Circus Doll Theater. I think M might actually be beginning to like working with tools, as she used the metal punch, bail pliers, and a grommet setter to make her paper strongman.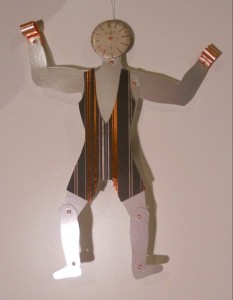 K stuck to scissors, craft knife, glue, and tape to make her gear-maned lion. K ran out of the right type of brads to attach the lion's legs so only two of them are secured properly. His hoop was made from a vintage rhinestone bracelet that was too small for either of us. M was just going to make a one piece paper doll, but instead chose to make a metallic jointed fellow. Then she made him a stripey suit. He may end up with more clothing in the future.
Day 20: Ice Cream Circus (K) & Penny Blue Ribbon (M)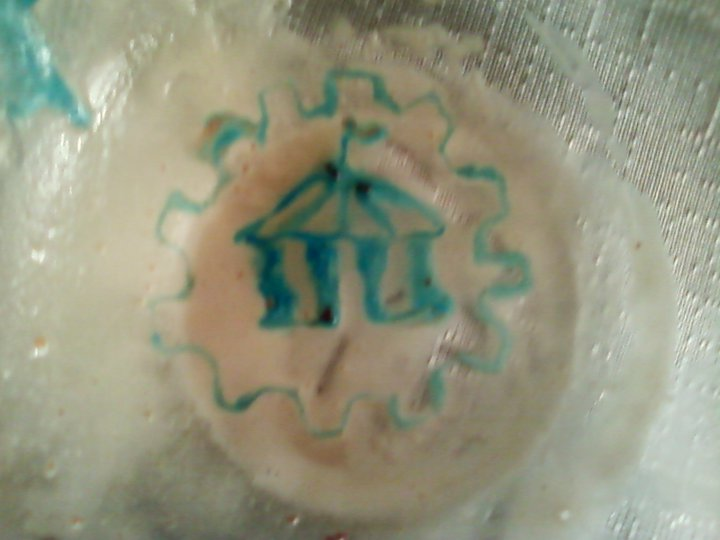 K's first attempt at a circus was too ephemeral to survive the 20-minute drive to Mom and Dad's house before being photographed, so I had to wing it after dinner to create a second art piece. Fortunately, we were celebrating M's birthday, and there was cake and ice cream, so with the dregs in her ice-cream bowl, K used a fork to "draw" a circus tent and then morphed it into an elephant.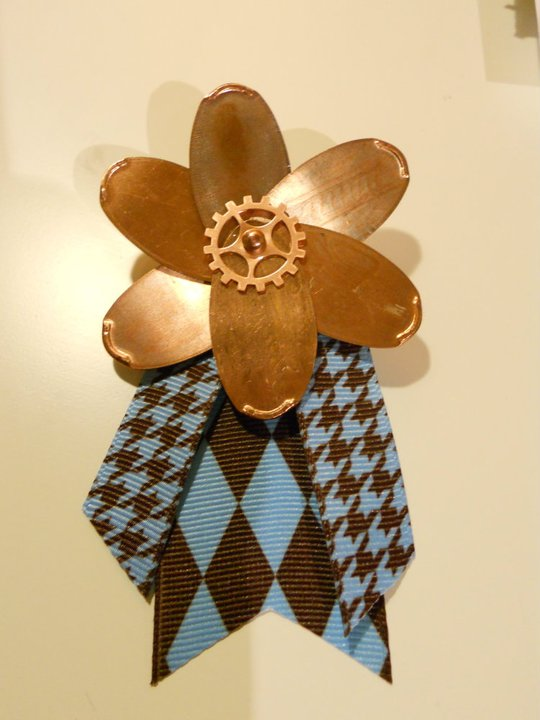 M tried unsuccessfully to get K to allow her to claim the second ice cream drawing as M's item for the day"¦ K said that was cheating. When we got back to the workshop from my birthday party I decided to try something I had been thinking about for a while"¦ using squashed pennies to make a flower. I took 6 of our squashed penny blanks, and used K's metal punch to make holes in one end, then used the Dremel tool to make the holes the proper size for the rivet. K taught me how to use the riveter and the flower took shape nicely. Then I decided to expand the circus theme to include county fairs and added the blue ribbon and the pin back. My creation would probably not win any awards, but it is a concept we are considering creating as a supply for purchase via the website. What do you think? Squashed penny flowers?
 Day 21: PT Barnum Amusement Bracelet (K) & Performer Post-Show Bling (M)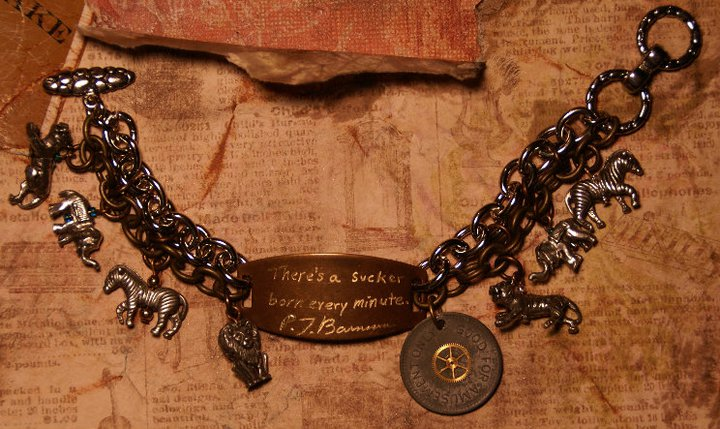 As soon as K saw that old "Good for Amusement Only" token at the antique store, she knew it had to be part of a circus bracelet. I used an engraving pen to etch the famous quote generally (and possibly erroneously) attributed to Victorian-era circus titan P.T. Barnum, "There's a sucker born every minute." and a forgery of Barnum's actual signature. The bracelet just begged for a menagerie of exotic animal charms. Owing to the amount of solid metal, this bracelet has great weight and movement to it.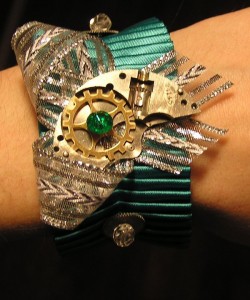 M was inspired by the yards of this awesome aqua ruffle ribbon she had stashed away. I decided to make a cuff bracelet worthy of a circus performer to wear in her downtime when going out on the town post-show (as girls like a little bling and performers usually take a bit of their stage persona with them wherever they go). I hand stitched all the attached baubles including some vintage buttons, an old watch part, a copper gear and some other watch parts with sparkly beads. It isn't perfect, but as a first attempt I can't complain too much about how it turned out.
K's Insights from Week 3: I'm learning to appreciate the value of small and ephemeral art. When I have to create with unusual materials in unfamiliar places, I have to stretch myself.
 M's Insights from Week 3: Unfinished items are still worthy of being shared. Tools really are your friends and I shouldn't be afraid of them, especially when I have K to watch over me and give me guidance. Making paper dolls with my big sister is still as much fun as it was when I was a child!