Frenzy Gals
We like trying out new art mediums every once in a while, just to see if we have been missing out on something. K is the baker. She likes the science of it and has skills that I will never have. But that's okay, we are good at working together and meshing our respective skills.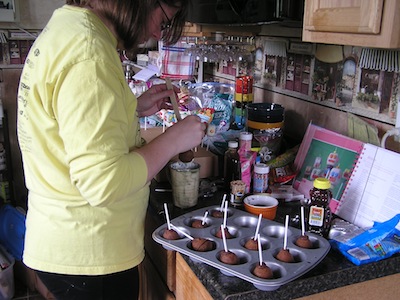 This weekend, however, was a test for both of us. Our nieces share a birthday and they were turning 4 and 3. They decided they wanted cake pops. They wanted Robot and Strawberry cake pops, to be exact. Enter the challenge: we had never made cake pops before and they had both wished for "the best birthday ever."
Working with melted chocolate wafers is not what I would call easy. Getting the temperature right is tricky; getting a smooth finish on the cake is impossible for me; and doing it all under pressure with a hodge podge of tools is, well, that extra bit of hell. (K is a consummate professional, and handled everything very well, which is good since I was internally stressing like mad.)

While they ended up not looking like the ones in the photograph from the cook book (let's be honest, how often does that really happen?), they turned out pretty well; and the look on the youngest's face when she saw the robots was priceless.
We didn't follow the directions exactly when it came to decorating, but then we rarely do follow directions exactly. The strawberries turned out fairly good, they were well received, despite the chocolate coating being nigh impossible to get to set up.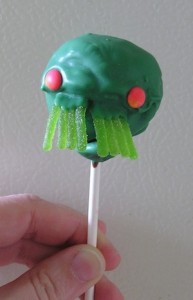 We were almost done when K, being the creative evil genius that she is, suggested we make a couple of Cakethulhus. There were some minor issues with the application of the tentacles, but K fixed that with a generous application of confectionary spackle (a.k.a. extra melted candy wafers). The identity of these little devilish dreams was lost on the under 10 crowd, but they made us smile, and THAT is what whimsical baking is all about, right?
- M of the frenzygals