Frenzy Gals
A Very Steampunk Christmas – Trimming Your Tree
If you are at all like us you probably have lots of bits and bobs lying around just waiting to be turned into something. Well, stop looking at that pile of awesome as a millstone around your neck and give these shiny pieces a new life this holiday season! With a little wire wrapping, ribbon tying, and a few metal hooks you could have your very own Steampunk Holiday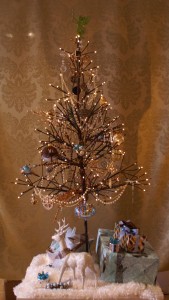 Tree!!
For us, space is a premium in the workshop so we opted for a small 4 foot table top tree that we picked up at a craft store for $40. It is made of Rice paper wrapped wire and already has the lights as part of the limbs. Yay! No messy wiring to wrangle!! It was a Victorian tradition to put actual candles on your tree, but that is kind of dangerous and the Fire Marshall most definitely frowns upon danger so our modern version of this suits us just fine.
We have quite a selection of skeleton keys, brass filigrees, vintage brooches, old necklaces, chain, and little things that mean something to us that we have gathered along our journey in this big, bad world. So, why not put them to use and decorate our tree? It really is that simple!
A few other ideas for you include:
1. Top Hat/ Mini Top Hat Tree Topper – Use a paper tube and a piece of stiff cardboard cut town to the size of the interior of your hat to hold it in place and avoid getting tree sap on your lovely stuff (if you have the luxury of a real tree). If you don't have a Top Hat, this is a great excuse to finally get one!
2. Fabric Scraps and Ribbon – We know you have some of this lying around! Cut small triangles and sew them to the ribbon to make a flag garland.
3. Vintage Costume Jewelry – clip and drape brooches and necklaces on your tree to add some sparkle. Or treat yourself to that necklace or bracelet you've been coveting and use it decorate your tree as well.
4. Skeleton Keys – Use ribbon scraps or ornament hooks to hang these on your tree.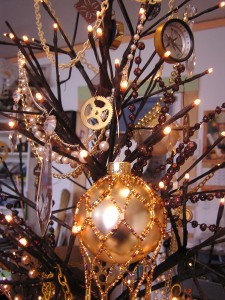 5. Chandelier Crystals – These usually already have a bent metal hook at the top so you can just hang them throughout your tree for added bling!
6. Brass Filigrees – Have a few extra you haven't turned into jewelry yet? String them on ribbon and turn them into ornaments.
7. Vacuum Tubes – These may require some wire-wrapping skills to turn into ornaments but will look retro-cool hanging on your tree!
8. Gears – We have some larger ones that look pretty awesome suspended from wire ornament hooks. You can get some now for decorations and use them in projects later – perfect!
9. Nautical Themed Pendants – mini portholes, tiny diving helmets, little spy glasses, clinometers, compasses – all these make great ornaments as well as jewelry pendants, and their brassy goodness gives your tree a distinctively Steampunk feel.
10. Treasured Trinkets – have a tchotcky from a lovely vacation? a little toy from your childhood? Something odd your grandma left you? Wrap it in wire, tie a ribbon around, somehow get it on your tree and be reminded of the valuable memories the little things embody!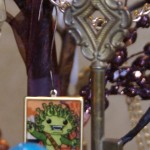 Take back the holidays and make them your own again. Remember what you loved about them as a child, and blend that with what you love now. Share what you love with others. It was a Victorian tradition to hide presents IN the tree, so adding some of the maker supplies the Steampunker in your life is wishing for this year is totally traditional in a non-traditional way!