Frenzy Gals
A Very Steampunk Christmas: Holiday Wreath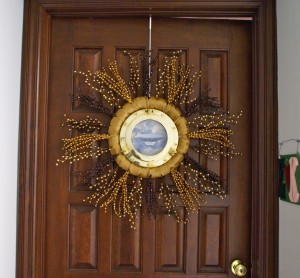 If you love the look of Steampunk, the holiday season is a great time to express your fondness for the aesthetic with the abundance of gorgeous golds, coppers, and browns in holiday decor. We decided to make our own decorations this year and started with a festive wreath for the door to our workshop.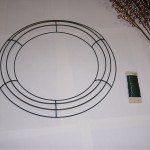 Using a basic wire wreath frame ($4), 2 dozen floral picks of various shades of bronzes and browns (approx. $25), 5 yards of copper colored satin ribbon ($3), some floral wire (free, because we had tons), some screws and nuts ($2), and a special piece we added at the last minute (also free because we already owned it), we built a lovely Steampunk-inspired door decoration.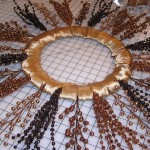 M used pieces of the floral wire to wire the floral picks to the wreath frame, then wrapped the frame with the ribbon to hide the ugly wire stems. Then we cannibalized our old convention sign to use the real brass porthole as the centerpiece. We had to go buy new screws so they were long enough to go through the porthole, the wreath, and the foam core board backer from the sign used to hold the porthole in place. Yes, that is our bathtub dirigible logo layered inside the porthole!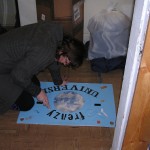 Voila! A very Steampunk holiday wreath to warmly greet visitors to the Frenzy Universe. Unfortunately, the photos do not do the wreath justice and it is way more lovely and sparkly in person.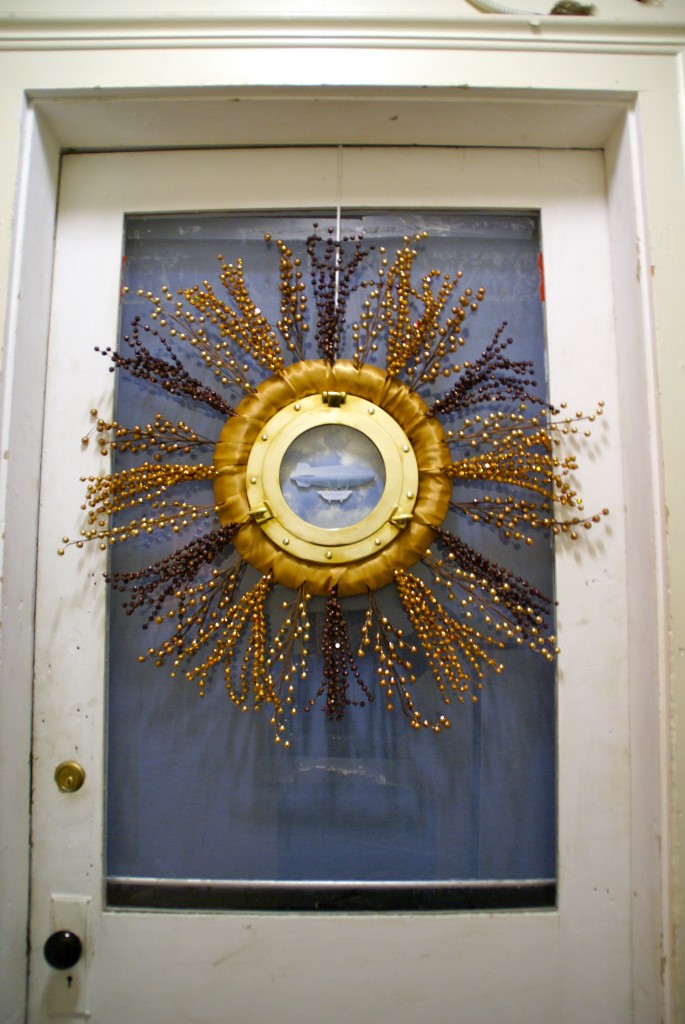 CAUTION: If you do try this, be aware that the floral wire is VERY SHARP when you cut it off. M stabbed herself several times and did lose a little blood in the process.