Frenzy Gals
Our Day at the Circus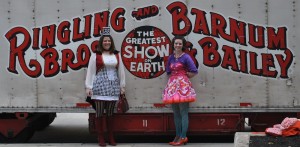 It's no secret we love circuses, so when Ringling Bros. & Barnum & Bailey's Fully Loaded show came to Cleveland, OH we just had to go. K remembers going to a circus when she was about 7 or 8, M doesn't remember this, so this was basically like going to our very first circus. We were giddy with excitement from the day the tickets arrived in the mail it became "real."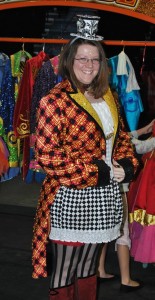 Of course we decided to dress up. Seriously, would you have imagined otherwise? It was hard to pick which outfits to wear as we have been working on several circus looks all year for different conventions and events. We decided to err on the side of "least obnoxious to our fellow show-goers" with M in her colorful skirt (which she modified the morning of the show to include a sequined bodice) and K's Ringmaster outfit (which we modified to turn the puff pants into a skirt the night before the show).
We were ready to go about an hour and half before we needed to leave. Guess we were just too excited! The 45 minute drive to the venue was almost interminable.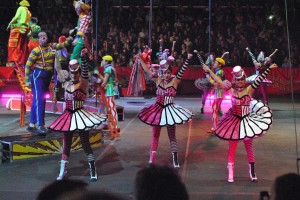 Standing in line waiting to get in to the all-access pre-show was borderline torture. We found our seats and made a beeline for the wardrobe rack containing retired costumes and K found herself a lovely Ringmaster jacket that weighed about 20 lbs!
Temporary tattoos, autographs from high-wire artists, the smell of elephant firmly in our nostrils and we were hooked. We were practically vibrating in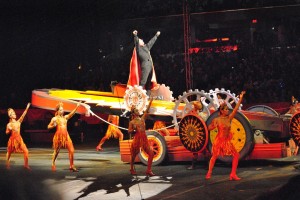 our seats with excitement when the house lights went down and the band began to play. We oohed and ahhed at the opening number and all the glittery costumes and coveted just about everything we saw paraded before our eyes.
Jugglers, clowns, aerialists, acrobats, high-wires, it just kept coming and we were dizzied by the spectacle of it. We were as delighted as children and terrified as adults. M hid behind her hand a few times, exclaimed in surprise despite herself and squeezed K's hand in non-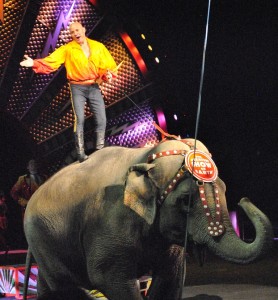 verbal support amidst the various acts. K went green with jealousy when the elephant and big cat trainer exclaimed he had "the best job in the world" as he paraded around the ring astride an elephant named Rosie.
We were dropped from the highest heights of excitement to the deepest depths of despair when the curtain went down and the house lights came up and we were ushered out of the great space. But we found that excitement  waiting for us as we replayed every moment over and over again on the walk to the car, during the drive home, and into the wee hours of the night as we glowed with a renewed energy and love for that which we call "the circus".