Frenzy Gals
Adventures With Power Tools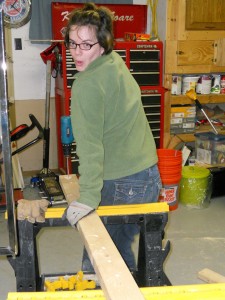 M posted photos on her Facebook page of her boyfriend doing household chores such as scrubbing the tub and doing dishes and our friend Matt asked "Where are the photos of girls with power tools?"
In building our circus we had cause to use lots of different power tools – jigsaws, circular saws, miter saws, power drills (with multiple different bits and drivers) – and hand tools.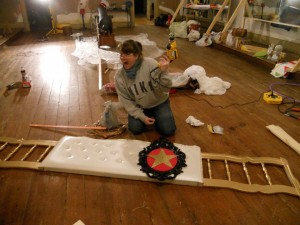 When all was said and done, K had made no less than (and most likely significantly more than) a dozen trips to the hardware store for pieces/parts and one very important trip to purchase our new power drill after three other drills failed to be up to the challenge of drilling the bolt holes in the wheel of death and the Candy Apples sign. Needless to say, she is in love with our new drill as it makes it so much easier and faster to complete her projects.
We put our tools through the ringer when we work and demand that they rise to the challenge. No pink handled tools with half the power of the "men's" version for us! Refurbishing the vintage ferris wheel seat alone broke two drill bits and bent a third!