Frenzy Gals
Circus-a-Day Project Recap of Week 11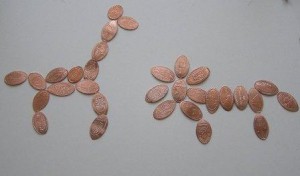 Day 71: Pressed Penny Circus (M) & "Steampunk Springs" Vision Board (K)
M was cleaning out her suitcase and gathered up her complete stash of pressed pennies collected along the route to Atlanta, Tucson, and home again. 32 new pennies to add to my collection! Looking at the shiny, lovely pile on my work table inspired me to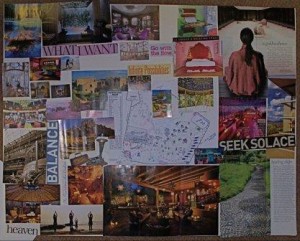 use them to make a giraffe and lion. Transient art can be just as fulfilling as "permanent" pieces.
K's beau has been bugging her since January to make her 2011 vision boards. So I made a collage that is a visual representation of my hopes and dreams for a hot springs property I've been dreaming of owning for 5 years. We're calling it "Steampunk Springs."
Day 72: Gas Mask Elephant (K) & Crochet Button Bracelet (M)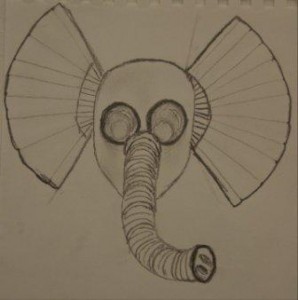 K was inspired by a bit of Diesel Punk today and drew a gas mask inspired elephant with industrial fan-like ears. Pencil on paper, simple and yet amazingly awesome!
M crocheted a bracelet of sparkly yarn and salvaged metal buttons. I've never crocheted buttons into something, usually I add them after the fact, so this was new for me. I got the spacing wrong on them so they look a bit lopsided, but they make a nice tinny jingle when they clank together. I had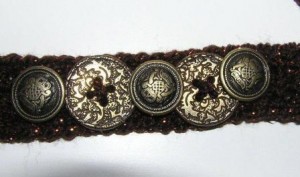 to leave the end tail still attached until I can get a buckle to attach as a closure.
Day 73: Steamy Necklaces (K) & Quilling Lessons (M)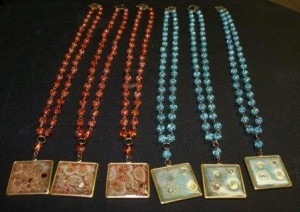 K was in production mode today. I made several of my steamy glass bead and resin pendant necklaces. I make the chain one link at a time so it was a bit of a process to complete the stock for the website. I imagine there is a lot of tedious work done daily in the circus that no one ever sees.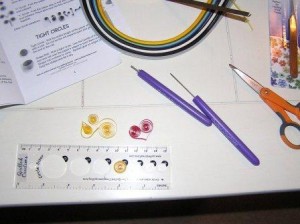 M bought a beginning quilling kit and broke it out to try her hand at this paper coiling art. It is not intuitive for me, I know, how hard can coiling paper be, but I opted to just follow the instructions and learn to make some basic shapes. I will be learning more and will eventually make a Steampunk Circus Masterpiece (hehehe)!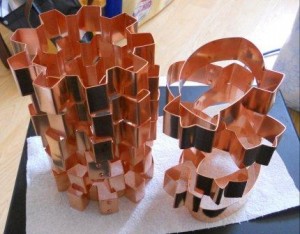 Day 74: Cookie Cutter Mass Production (K) & Garter Suspenders(M)
K stayed in maker mode and cranked out some serious merchandise by making her custom copper cog and dirigible cookie cutters. The last time we left town I had to make some on the road and find a shipping center to fill web orders. This time I am gonna make enough to leave some behind so our intrepid assistant can fill the orders for us!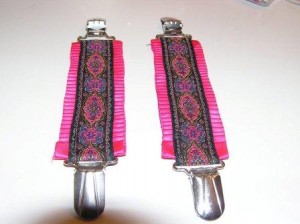 M had the idea to make these Garter Suspenders/Skirt Lifters for a long time and finally bought the suspender clips to make it a reality. I took two different kinds of ribbon I had that I thought were kind of circusy in their coloring and style. The suspender clips allow it to clip to your shorts and then your leggings to hold them up or allow you to clip up the hem of your skirts to show a little leg or your frilly bloomers!
Day 75: Costume Modding (M) & Gibson Girl Necklace (K)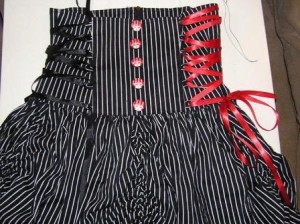 M decided to finally finish modding some of her own costume pieces that she has been dreaming about for a while. Trading out buttons is one of the fastest and easiest ways to change the look of something. I found these little red lady buttons ages ago at JoAnn Fabric and loved them but didn't know what to do with them. I thought the flowers on her hat looked kind of like gears so when I was upgrading my stripey circus bustle skirt I chose to use them and red ribbon to add some contrast to the black and white.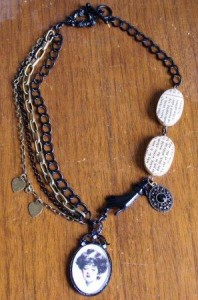 K made a mixed media Gibson Girl necklace using a mixture of odds and ends, vintage and store-bought chain, and very cool printed beads. The asymmetrical nature gives a bit grittier look than the Gibson Girl would usually be comfortable with, but it works well I think.
Day 76: SteamPatrick's Day Bowler
After our long road run this evening in preparation for the Warrior Dash in June, we didn't have much energy left, so we joined forces to work on a way to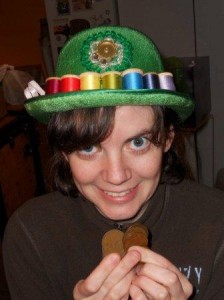 celebrate St. Patrick's Day the Steamy Way. We took a stock green velvet derby, added some odds and ends that K had lying around and M made the rainbow thread spool hat band. Then we dug out some coins K had been saving for future projects and made M get in touch with her inner leprechaun. She kinda freaked K out a bit!
Day 77: Reclaimed Canvas Bag Decoration
For today's circus we took reclaimed canvas tote bags M made last year and decorated them with circus themes. M used stencils and fabric paint to add crowns and the word
"CIRCUS" , then used iron-on flocking to create the word "clockwork" . Then, she added the tiger using an iron-on foil transfer. K blocked vertical lines by using packing tape, then used fabric spray paint to paint red stripes. This was a failure, as evidenced by the bleeding of the lines. It took a really long time to dry as well. Next time, we will honor K's first instincts and use actual spray paint instead.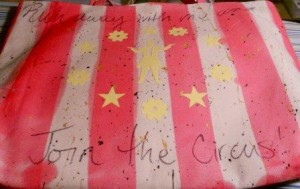 Then, she splattered gold and black paint by flicking paint brushes, wrote the quote with a sharpie, and used iron-on flocking to add the ringmaster, gears, and stars. We will decorate the other sides of the bags for a future project.