Frenzy Gals
Circus-a-Day Project Recap of Week 15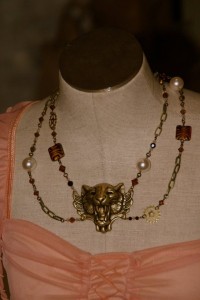 Day 99
It was a late submission for today, but this necklace took K forever! I had to make all the individual links, then make sure that the asymmetrical chains were of equal lengths so that the necklace would hang properly.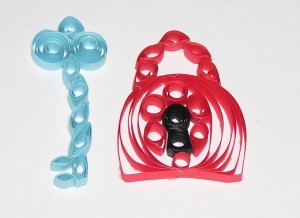 Isn't that big brass tiger awesome?!?
M worked on her quilling technique and is totally dissatisfied with the results. I will need to work more creatively to make things look better, but I did learn some new tricks for using circles to create new shapes and negative spaces.
Day 100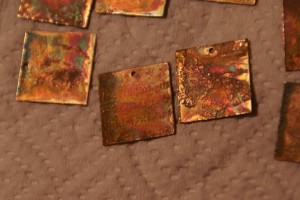 For our 100th day of the circus project, K decided to experiment with dangerous acids! I etched brass using a muriatic acid/hydrogen peroxide solution, which we then neutralized by using a full 2-pounds of baking soda. Some of the etching took really well (butterfly, eye, some of the writing), but some did not. I learned a lot, including that my inner scientist squirreled away some pretty cool skills and facts that I can recall at a moment's notice! And if you're going to etch metal this way, do a lot at once, so you don't waste your materials … but if I was going to screw it up, I didn't want to ruin a big batch of brass! These aren't quite done.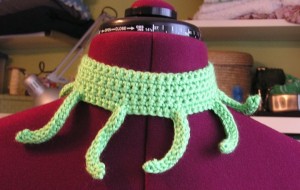 Next up: oxidize with liver of sulfur, buff and seal, and finally, incorporate into the intended applications…
M got the idea to crochet a tentacle necklace when she made the ribbon neck ruffle a week ago. It didn't turn out quite as I expected, but it is a good base for future iterations. The tentacles definitely need to be longer and fatter and I think they could probably use some mini suckers to make them look more tentacle-like.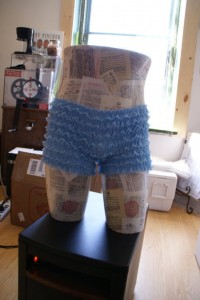 Days 101-103
We've made so much stuff in the last couple days and we prepped for Oklahoma Steampunk Expo, we're not even sure which days each project is really aligned with. But we made a lot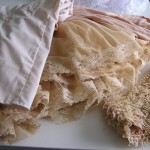 of stuff! And you still haven't seen a third of the awesome bustle skirts M cranked out in the last week! K decoupaged an old partial mannequin to better display our pettipants. She used the directions that came with the glass syringes we sell as they are in Czech and Russian and we couldn't use them for anything else. She also made a sun catcher in honor of her kitty Xena who we sent off to kitty heaven this week. Everything seemed like it was taking forever, especially the dye projects M was working on, but the petticoats turned out awesome with the tea stain.
Day 104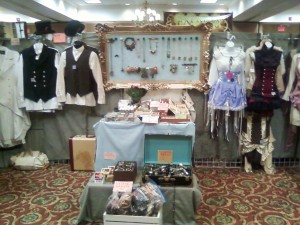 Nothing really, except getting up early and getting set up for Oklahoma Steampunk Expo, which was a feat of strength and mind over matter as we drove 16 hours in the car yesterday, through tornadoes, and got very little sleep last night. None of these are acceptable excuses for our lack of creation, but our booth looks pretty flippin' sweet so we are counting it as today's circus as it IS our traveling side show!
Day 105
Today we met the original Ronald McDonald – he has the coolest circus tattoos and grew up as a carnie working on Ferris Wheels! We got our photos with him as our circus… We also met the cutest, most amazing girl ever – Vaudevie from Hellblinki! She plays the accordian and recently spent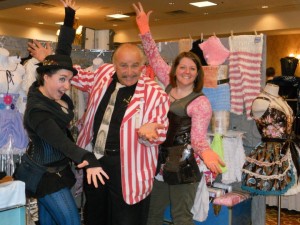 time with the Ringling Brothers band! She is going to give M info on how to learn to play her accordian. Some days we really LOVE our jobs!