Frenzy Gals
A Blast from the Past – Looper Potholders
By M of the FrenzyGals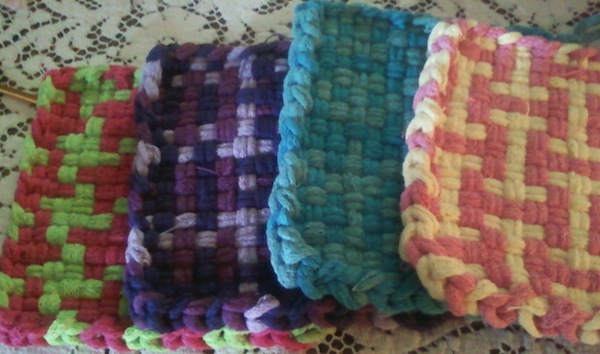 Who remembers making these as a kid? We sure do! Of course, our mom had her own weaving business and we made these to supplement her inventory of rugs, placemats, table runners and pillows and we got paid when they sold at her shows.
It was our first taste of making things for a living. We invented patterns and color combinations and entertained ourselves while waiting our turn to play Nintendo or when rewatching the copy of Robin Hood: Prince of Thieves that was the extent of our initial VHS collection. (It was a gift from an aunt to our family at Christmas along with our first VCR.)
The other day I revisited these childhood memories as our mom and I sat at her dining table and talked while weaving together the brightly colored cotton sock mill-ends.
Some things never change, and it was a rather enjoyable way to make a few extra dollars while helping out the business I was raised on.