Frenzy Gals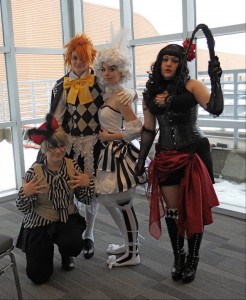 Day 29: Cosplay Circus Photo
We were fortunate to spend the day at OhayoCon in Columbus, OH, today, where we encountered many talented individuals with fantastic costumes, steampunk and otherwise. This little group of cosplayers had fantastic circus appeal. If this is you, please claim responsibility for your awesomenosity, and feel free to download the photo from here or the photo gallery on our website!
Day 30: Snow Elephant (K) & Horsewoman Neck Ruffle (M)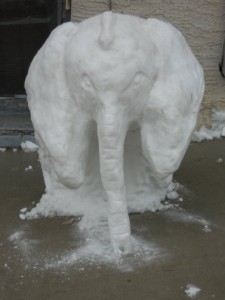 Sadly, our snow lion from last week was more than the folks around here could handle. We awoke this morning to find his face smashed. So, K decided not to let them win so easily and resculpted the lion into the head of an elephant. I'm not as familiar with elephantine anatomy, so he's a bit more abstract than the lion, but I like him! Unfortunately, the elephant didn't last 24 hours before being vandalized. Sigh.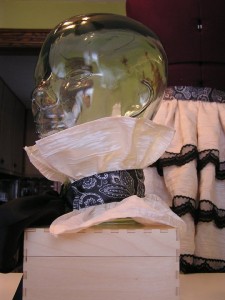 M started the Horseback Stuntwoman outfit in week 4 with the skirt attempt that broke her sewing machine. I got that fixed and moved on to the neck ruffle for day 30. I took leftover pieces of the pale pink taffeta, machine hemmed all the edges and then gathered the length down the center by hand. I sewed a piece of lovely paisley ribbon over the gather to create a collar and then sewed black satin ribbon near the ends to make long ties. There will be several more similar elements added to this outfit as time goes by. I've got a vision, people!
Day 31: Engraved and Embossed Circus Letters (K) & Wrist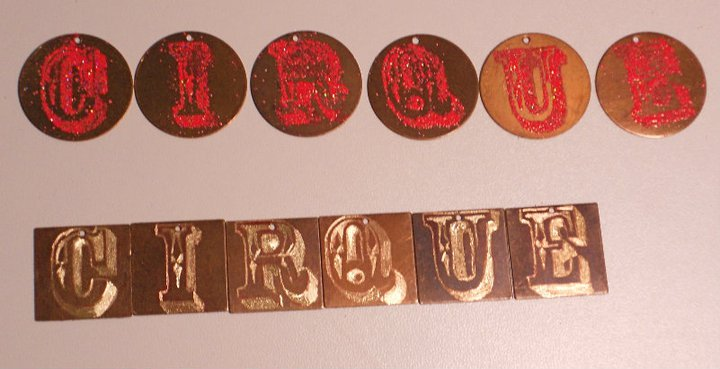 Ruffles (M)
K's art for today was intended for trying new techniques. So, I pulled out some brass discs and stamped them with letters in a circus font. I added some embossing powder to the round ones and heated them with the heat tool. Unfortunately, the embossing powder stuck to the metal outside of the ink, so the lettering came out pretty muddy. With the square discs, I pulled out the engraving pen, and I traced the inked letters. I like the engraved ones much better, but the buzzing of the pen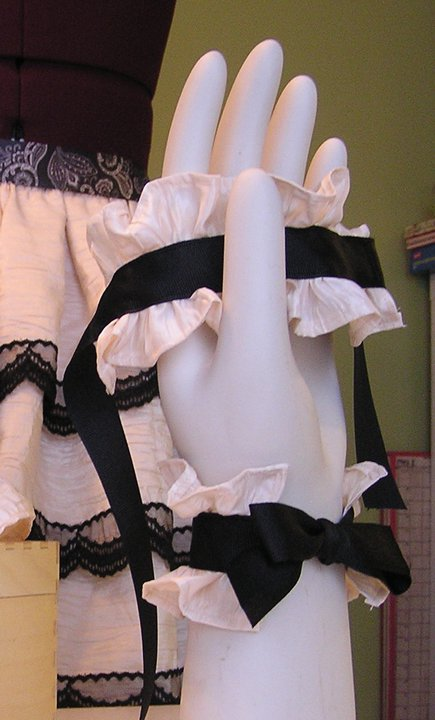 made my wrist numb! Sometime soon, I'll add them to another jewelry project.
M continued with the Horseback Stuntwoman theme and made rist ruffles to match the neck ruffle from day 30 and the skirt from Week 4. Made from the same taffeta as the skirt and black grosgrain ribbon I used the same principles of gathering used in the neck ruffle and sewed the grosgrain ribbon to cover the gathering stitches and create a cuff. They are rather small as I have tiny wrists, but any future iterations of these pretty little things will be made longer for the less freakish folks out there!
Day 32: Red and White Crystal Circus Pendants (K) & Upcycled Leg Warmers (M)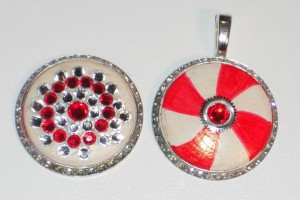 The first day of our second month! K's first project of February is two pendants made from old clip-on earrings. I removed the back of the earring and filed it down, to prepare it for a glue-on bail. After drawing on the red stripes on the first one, I glued on a silver gear and a red, flat-back crystal. The second pendant involved gluing flat-back crystals onto the other cabochon. But I ran out of crystals and the lights kept flickering (ice storm!), so I called it a night. These items will most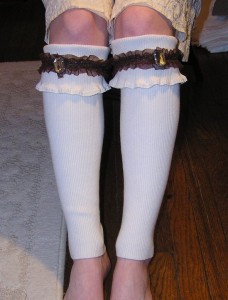 likely show up in other circus projects later!
M decided to use an old sweater she had been saving to make a pair of leg warmers. This was a complete experiment that actually turned out better than I expected. I cut the sleeves off the sweater and used the overedge stitch on the sewing machine to keep the cut end from fraying. This caused the knit fabric to pucker a bit creating a nice ruffle so I just ran with it. I then took some pieces of elasticized lace and cut them to length to fit around my leg just below my knee. I used two plastic gemstone pins to hold the ends of the garters together. Voila! Recycled sweater becomes frilly legwarmers!
Day 33: Punched Metal Discs (K) & K's Lion Tamer Jacket (M)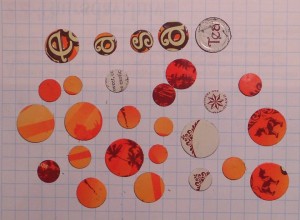 K decided to try a bit of Marianne's advice, and chose destruction as a path toward creativity today. I took an old Thai Tea tin and used the metal disc punch to cut out circular tabs of different sizes for use in jewelry projects. With a smaller punch, I will put tinier holes in each item and use the holes to add jumprings, wire, or other threading material to make charms and connectors. I have plans for a couple of these (some are going into that Fortune Teller necklace I've been collecting materials for), but the rest will have to wait for inspiration!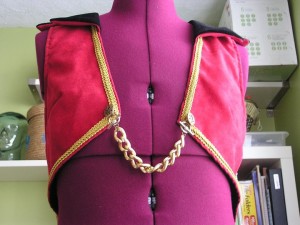 M was feeling stressed about having several unfinished projects lying around and the thought of starting a new one was daunting so she decided to actually finish something instead. I have been working on the jacket for K's Lion Tamer costume in little increments for months now and decided it was time to finish putting on the braid trim. I had to remove the toggle closure, and fanangling the trim gave me hand cramps, but once it was all sewn on and the toggle replaced, I was quite pleased with the result. Now just to make the detachable epaulets!
Day 34: Responsibility Juggling and Bellydancer Drawing (K) & HipHop Abs (M)
K's first circus item of the day is a photo of her juggling her to-do list. What I was most upset by in this photo is that I am wearing an Ohio State sweatshirt! (It was a gift, and it was clean today, so back off peeps!)
Then, I was working on a sketch for a headdress, and since I finished it before I went to bed, I'm
counting it as part of today's circus. I was imagining a headdress for our friend Shaharazade to wear at Burning Man, and used a photo of a bellydancer (and photos of S) as inspiration for this art. I'm thinking feathers, silk flowers and leaves, strings of pearls and beads, and felted dreadlocks would be exquisite with S's hair and skin-tone. The sketch is not done, and the photo is bad, but I hope we get to make the real thing!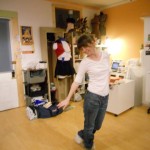 M's circus for the day is her performance of the HipHop Abs Party Bounce and Night Move. K finally talked me into doing the workout with her and as I am terribly uncoordinated it was quite entertaining"¦ a dorky Steampunk with no rhythm attempting to find her inner hiphop dancer. If only we had video of the event!
 Day 35: Etched Circus Glasses and Goggles
Today's Frenzy Universe Steampunk Circus is brought to you by BaconPop – bacon-flavored popcorn!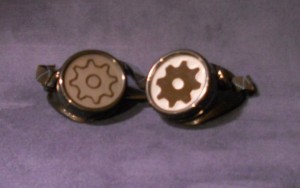 K & M worked together today to do some glass etching. We started out with some lenses for a pair of basic welding goggles. Then, we moved on to the glass tumblers we bought for this very purpose. The resists were made from sticky-back vinyl we cut by using the Cricut machine. We applied the resists to the glass and burnished them, then applied the etching solution.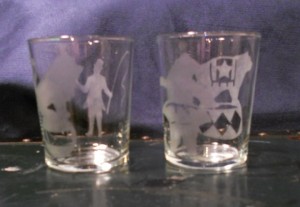 After washing the etching solution off the glass, we removed the resists, and Voila! Sorry the photos aren't very good, but photographing clear, colorless items in bad lighting is not a very good trick.