Frenzy Gals
We headed out for our first convention of the year (AnachroCon in Atlanta) amidst freezing temperatures and a lovely mix of snow and ice in Ohio. Loading the van was interesting, to say the least. We made our way to Nashville for the night where our lovely and brilliant cousin Tara gave us refuge. The next morning we accompanied her to Geek Breakfast, which was a lot of fun but definitely left us feeling like the least intelligent bugs in the room. M had a geek out moment when she realized the artist one of the men was talking about was none other than Janet Lee who did the artwork for Return of the Dapper Men, which is M's current visual love affair. If you haven't seen the book yet, make sure you get your hands on a copy, but don't drool on it unless you intend to buy it, that is just rude otherwise.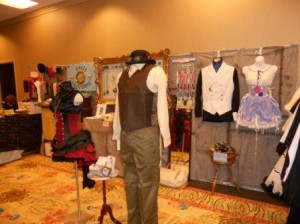 We made it to Atlanta by early evening and were thrilled to find we were able to just pull up and unload in a balmy breeze. Seriously, no coats required! Everyone was so nice and helpful and their vendor hall staff was always checking on us and all smiles. Cindy, you are perfection and sunshine!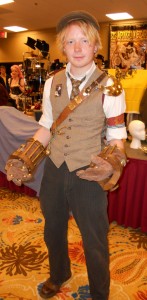 As day one was Friday, the vendor hall opened in early afternoon, which gave us time to finish making our booth signage and get ready at our leisure. We also got a little time to get to know our fellow vendors before the hall opened. We hit it off right away with Weatherly of Aardvark Screenprinting (we had met his daughter and son-in-law at World Steam Expo last year), Mark Helwig (check out his awesome artwork HERE), Rebel Rouser Relics, and the lovely young ladies of I Luv Steampunk. We were mesmerized by the offerings and feel there was an excellent array of goods to be had in the vendor halls. Megan Maude, Steampunk Funk Bizarre, Wolfhome Adventuring Outfitters, Pendragon Costumes, and several others made the weekend a sure bet for anyone looking to part with their cash.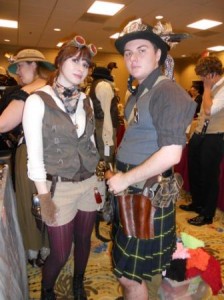 We met Dr. Q who gave us the great news that our good friends Nick Valentino (author of Thomas Riley Steampunk Novels) and Liz Darvill (author of Bound by Blood, Love in the Time of Steam, and many others) would soon be arriving! Yeah, Detroit!! We made a late night run to Waffle House with them on Friday and a lovely dinner of pancakes, burgers, and homefries 4 different ways. Then we caught up with Thomas Willeford of Brute Force Studios who owed us a drink from November. It was lovely catching up with him again, he always has an entertaining story or two. (Dr. Q is hosting the Clockwork Carnival in Atlanta on Saturday, April 16. If you will be in the Atlanta area, we highly recommend you check it out!)
Saturday night was fun with everyone dressed in their finery for the Costume Contest and Fashion Showcase. Unfortunately the Showcase got sidelined by the Tesla coil crowd in the lobby, but that was fun too! M got close during the shocking
events (hehe!) and managed to capture the spark jumping between the guy running the coil and Thomas Willeford.
Sunday was a slow day, as everyone had stayed up way late having fun the night before. The vendor hall was hopping though as we all just got goofy and started imagining strange Steampunk mash-ups like Steampunk Disco, Steampunk Jersey Shore, and Mythical Monster Christmas Carols. Tear down went fairly smoothly and we prepared to head straight for Tucson and Wild Wild West Con the following weekend.
A few quick shout outs to people we don't want to forget:
Gretchen (a.k.a. Wilhelmina Frame) – you were, as always, lovely and entertaining. M still occasionally giggles about that seagull story and we are so going to Circus World and the House on the Rock the next time we are in Wisconsin.
Matt Pettefer – our new friend who had his initiation into the world of Steampunk punctuated by the theft of his camera. We are sorry that happened, but hope you had fun nonetheless. Check out his blog on the event HERE.
Aberrant Radio – those folks were fun and did some seriously in-depth coverage of AnachroCon! Check out their website for more awesomenosity!