Frenzy Gals
Oklahoma Steampunk Exposition
Oklahoma City, OK April 15-17
What a way to spend Tax Day – whooping it up with our fellow Steampunkers in Oklahoma! We left on Thursday and drove 16 hours through scary storms to arrive late in the evening to the Clarion Hotel/Stone Garden Conference Center. Up early Friday morning to set up the booth as we had gotten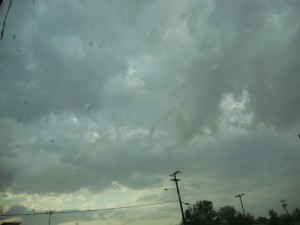 confirmation they were giving us some extra time when we explained our booth takes more than two hours to set up so we couldn't start unloading at noon and be ready to go at 3. We were the first ones in and were able to easily haul all our heavy stuff right through the room without being in anyone's way. We didn't take the heavy trunks this time which seriously cut down on the exhaustion factor, which was excellent 'cuz M was suffering from an intense sinus infection that was messing with her energy and inner ear stability. We got set up in record time and were even able to spare a few minutes to shower and get gussied up for the opening of the event!
Back in the vendor hall on Friday night we were thrilled to run into the lovely Amanda Roberts of Geek Details and her "booth monkey" Jordan (her words, not ours!) whom we had met last year in St. Louis. She has expanded her wares and now carries vintage treasures and even more handmade lovelies! We are excited she will be joining us at Origins this June! We were also super lucky to meet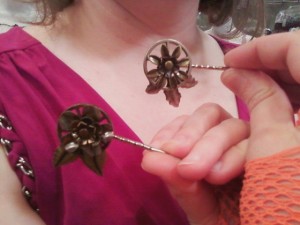 the beautiful and talented ladies of Captain Benjamina's Salvage Emporium who apparently had been stalking us on our Facebook page for a while now. Thankfully they were the sweet and unscary types of stalkers. Stephanie & Katrina kept our spirits up all weekend and even made us little gifties! Aww… we love you ladies! K also got to meet the amazing and hard-working Peter Pixie who MC'd the event. We first heard about him last year when we were in Kansas City for a business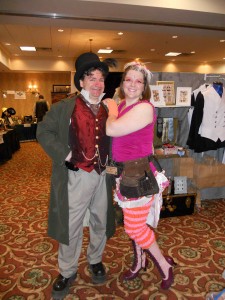 workshop and we met his dad. K friended him on Facebook and they finally got to meet in person!
We ran into the cool peeps from Airship Isabella again, they are always such a pleasure to speak to and they make some gorgeous accessories and pretty cool weaponry if you're into that kind of thing. The highlight of Saturday had to be meeting VaudeVie of Hellblinki fame and chatting with her about accordian playing and how she recently got to hang out with the Ringling Bros. Barnum & Bailey Circus Band!! How cool is that?!? We were sure to get out and check out Hellblinki's set that night and were not disappointed. M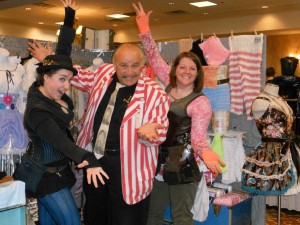 waited in line after the show to get her paws on their latest album in VINYL!!! Then we got to hang out with Amanda, Jordan and our new friends Angie and Mike from The Festooned Butterfly (OMG, you've gotta check out Angie's clothes – they are beautifully made and she is quite possibly one of the nicest persons we have ever met.) Weird coincidence of the night – finding out that Mike actually sells his hand-blown glass items in a little artist's co-op in our homebase town of Mount Vernon, OH! How wildly random! Thanks to our friends and their secret stash of whiskey, M was able to sleep better that night and woke up Sunday feeling a bit better after having been offered medical assistance several times on Saturday because she apparently looked as white as a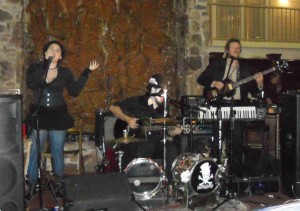 sheet.
Sunday was a slow day in the vendor hall and when they told us we only had 1 hour to tear down and get out of the hall before the hotel got cranky, we did the unthinkable and started packing up early. It wasn't that much of a stretch though as a couple of vendors had left the night before and several others packed up early and were out of there before we even turned around! We were able to have dinner with The Festooned Butterfly at Zorba's Greek restaurant down the way from the hotel. We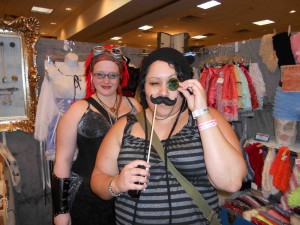 headed home on Monday and were so glad to be back on the Eastern side of the Mississippi River by dinner time.
If you weren't able to attend the event you really missed out  on a pretty cool vendor hall and all the awesome things to see and buy in there! Here is a quick sampling of some of the vendors you might want to check out if you have the time!
Geek Details – a happy little place full of handmade goodies and vintage treasures run by the lovely Amanda Roberts, one feisty little package of a woman!
Captain Benjamina's Salvage Emporium – M LOVES her new lace choker with bumble bee charm she got from these lovely ladies… they are lifetime friends now!
Collectibles, Etc. – you can't visit them online, but if you are in Oklahoma City we highly recommend you check out their unique collection of retro chic, estate liquidation, and vintage clothing. Plus, they are such a lovely couple and were sweet to spend so much time talking with M about clothes! 1511 N. Merdian, Oklahoma City, OK (405)524-1700
The Steampunk Illumination Society – This Dallas based Steampunk group was such fun, every time we saw them they were wearing different outfits and we loved them all. We are very excited to meet more of their members in San Antonio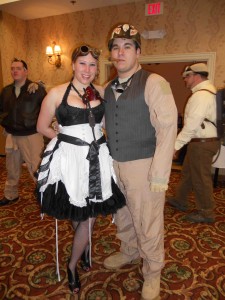 this upcoming weekend at AetherFest! Ramon and Radha were delightful!
Hellblinki – well, they weren't vendors in the hall with us, but they put on a spectacular show that was quite entertaining. Seriously, can you go wrong with TWO accordian players, some good ole fashioned washboard playing and a saw? I think not! M hasn't stopped playing her copy of These Bubbles of Come From Ants
Peter Bradley – fantasy artist of Ravenchilde Illustrations. He seemed surprised that M had heard of Larry Elmore but has never played D&D. He draws gorgeous confident warrior women so we liked him for sure! Check out his stuff on deviantart or on his website.
The Festooned Butterfly – Angie has some of the sweetest men's clothes we have come across in our Steampunk travels. She is also incredibly lovely and has pretty awesome ladies' clothes, too! We are very excited she is going to be at Steampunk World's Fair AND World Steam Expo! She does lots of custom stuff too, so if you can't find quite what you are looking for, she is your gal!
Ta Da Boutique – They had lots of super cool custom embroidered items from bags to patches to vests with unique Steampunk designs. They also sold mistachios on a stick – which were quite the popular item at this event. She sells on etsy and artfire!
Time Traveler Outfitters – M spent a lovely spell chatting with Deborah about making clothing and trying to find good help and good supplies. Her work is impeccable and M is completely in awe of her wares & hopes to be that good someday. Historically inspired costumes are their specialty and they do it right! Her men's pants are spectacular in lots of awesome patterns and colors!
RenBoots – The leather work of these people is awesome. K desperately wants one of their throwing knife garters! We met the owner who was very complimentary towards us and we were very flattered as their wares are top notch! She bought our first ever tea stained petticoat and it looked amazing with the outfit she had picked out for it!